Tech-driven human intervened mentorship
for

Corporates
Unleash the power of mentors to drive business success and nurture industry-ready talent
Tech-driven human intervened mentorship
SOLVING THE PROBLEM WITH YUGMA
On a mission to touch lives and careers of 500,000 learners by 2026
Through our tech-driven human intervention, we at VMentor.ai serve and mentor the entire ecosystem by supporting corporates, empowering colleges, and working closely with students. Our goal through mentorship is to bring about productive employees for corporates and a better reputation for colleges.
The Problem
Report Shows Only 47% of Graduates Employable in India
According to an employability report, only 47% of graduates in India are employable due to a skills gap between what is taught in colleges and what employers require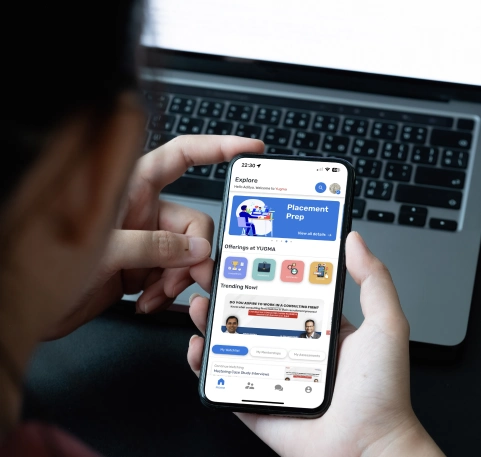 Industry CXO Mentors
Our 300+ mentors are industry veterans will ensure you achieve your goals and visible results
Engg Colleges, Grad & BSchools
where we run well-researched and tech-enabled interventions ranging from assessments to upskilling and more, to make students
career ready
Corporates
Partnered with corporates to assess & hire experienced freshers, enable Business transformation & Scaleups, People capability building, Process Transformation
Learners Impacted
Upskilled, assessed, nurtured & placed over 20000 learners
Connect With Us
V can work together
Why Us
Why Choose VMentor
In a rapidly evolving industry, VMentor.ai empowers organizations and academia to stay relevant and competitive in the face of emerging technologies and challenges.

Deep Knowledge
Our seasoned team with 200+ man-years of corporate experience empowers organizations with expertise, speed, and results

Tech Platform
Leverage technology to provide human-intervention enabled solutions through YUGMA app & other powerful tech interventions

Methodology
Our user-friendly plug-and-play methodology simplifies project execution, while gamification enhances learning and engagement.

Mentors
With 300+ expert mentors, we empower client organizations to learn, build, scale, and achieve success.

Tools
We have indigenously developed tools – from assessment to metrics that are on par with the best in the industry.

Placements
We provide students with internships & placements in some of the country's best brands
TOP BSCHOOL, GRAD & ENGINEERING COLLEGES ASSOCIATIONS
Currently, I am taking care of Total Rewards and HR analytics in one of India's largest e-commerce companies which is a clear indication of the value of the experience and exposure I gained at YUGMA. I did my internship with YUGMA in April 2020 when Covid was at its peak. The mentorship I received during the internship helped me find clarity in my career path. Overall, YUGMA provides a unique and valuable experience for all its interns, and I am confident that they will continue to make a positive impact on the development of young professionals
As an academician with over 3 decades of experience, the unique approach and mission of YUGMA is so encouraging. JBIMS and I have been closely associated with this mission of enhancing employability and creating impact for over 2 years. The modules run by YUGMA are very practical and creates a positive impact not just for placements but also for shaping careers of the students. The ratings of the programs have been one of the highest at our institute!.
We have partnered with YUGMA and VMentor for last 3 years, they have a transformation mindset and hawk eyes on execution. We have hired over 20 management interns from MBA colleges through YUGMA's functional academy for global projects. This has immensely helped us reduce our costs of hiring and improved the quality of hiring. God speed YUGMA!
Contact Us
How can we help you?
Mumbai: WeWork, Chromium, Jogeshwari – Vikhroli Link Rd, Raje Sambhaji Nagar, Marol, Andheri East, Mumbai, Maharashtra – 400076
Pune: Office no 203, Second Floor, Sohrab Hall, 21 Sasoon Road, Pune – 411001
Delhi: Nukleus Coworking & Managed Offices, 29, Sector 142, Noida, Uttar Pradesh – 201305
Bengaluru: Muneesh Legacy, Indira Nagar II Stage, Bengaluru, Karnataka - 560037