Campus to career interventions for Institutes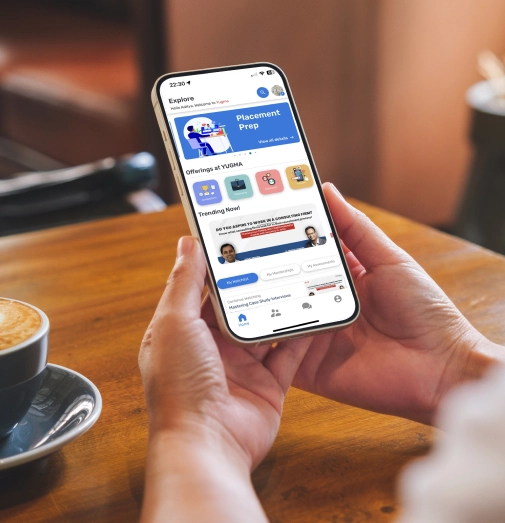 Empowering Institutes, Enhancing Employabilty, Igniting Careers!
V work closely with colleges to enhance employability of students through mentorship, skill development & multiple interventions.
The Problem
Bridging the Employability Gap: Colleges Endeavor to Improve Job Readiness and Employability of Students to Attract High-Quality Recruiters and Secure Better Placements
Amplify Placements and Secure a Radiant Future
Better opportunities meets better preparation
We are dedicated to helping students become placement-ready with our comprehensive program, we equip students with the skills, knowledge, and confidence needed to secure their dream jobs.
Assess today to make your best move forward
Our assessment tools provide a comprehensive evaluation of your employability, helping you understand your strengths and areas for improvement.
Providing opportunities & access to the country's most sought-afler recruiters
We have established strong partnerships with leading corporates across various sectors. These partnerships enable us to showcase a wide range of internship and job openings from renowned companies.
UPSKILLING & CERTIFICATIONS
Learn form Industry experts & transform your career
We upskill & certify students through our handpicked a range of cutting-edge certifications and courses from leading industry experts and renowned institutions. These programs cover a wide array of in-demand skills and emerging technologies, ensuring that you have access to the latest and most relevant knowledge in your field of interest.
Skyrocket your Average placement figures by empowering the Elite 10%
Through our rigorous training and mentorship programs we nurture your brightest students & unlock the limitless possibilities that lie within the top 10% and catapult your average placements to new highs.
Industry Excellence through Real-Life Case Studies by Industry Veterans
A game-changing intervention where industry professionals teach real-life case studies, building essential people and business skills.
Get Access to Industry Veterans
Let Industry leaders personalize your programs & labs
Faculty Development Programs(FDP) & Management Development Programs(MDP)
Designed by Industry veterans to unlock excellence across leaders & your faculty
Elevate your institution with our transformative Faculty Development Programs OR Empower leaders, ignite innovation, and drive organizational growth with our dynamic Management Development Programs curated by proven impact-makers, our very our mentor network
Gain Strategic Insights on industry & hiring companies
Take your placement preparation to the next level by deepening your understanding of companies, industries, and market dynamics through the Sector Analysis Program led by experienced YUGMA mentors
Research & Knowledge Labs
Building student capabilities through labs curated basis your requirements by CXO Industry mentors
Research and Knowledge Labs are specialized centres, curated to build student capabilities through various interventions and inputs that make them business-ready. Labs are hosted on college facilities and help students deepen their expertise and acquire valuable experience for their future.
Our Reach & Impact till date
MSMEs, Startups & Global Tieups
Mentoring Hours per month
Bringing in top recruiters to colleges
Contact Us
How can we help you?
Mumbai: WeWork, Chromium, Jogeshwari – Vikhroli Link Rd, Raje Sambhaji Nagar, Marol, Andheri East, Mumbai, Maharashtra – 400076
Pune: Office no 203, Second Floor, Sohrab Hall, 21 Sasoon Road, Pune – 411001
Delhi: Nukleus Coworking & Managed Offices, 29, Sector 142, Noida, Uttar Pradesh – 201305
Bengaluru: Muneesh Legacy, Indira Nagar II Stage, Bengaluru, Karnataka - 560037